Is it your experience too these days? When we speak in the virtual world, we need to do some things  decidedly different. But, luckily, other things stay pretty much the same. I recently experienced this again when I had the honour to moderate the 30 anniversary Interreg event for the European Commission.
The event was supposed to be hybrid: half the audience online, the other half joining us in the wonderful Gold Hall at the Square here in Brussels.
But, surprise, Corona forced us to go entirely virtual. The big hall ended up almost empty. I found myself talking into cameras to an audience I never saw.
Here I am. Almost all alone. The audience at home.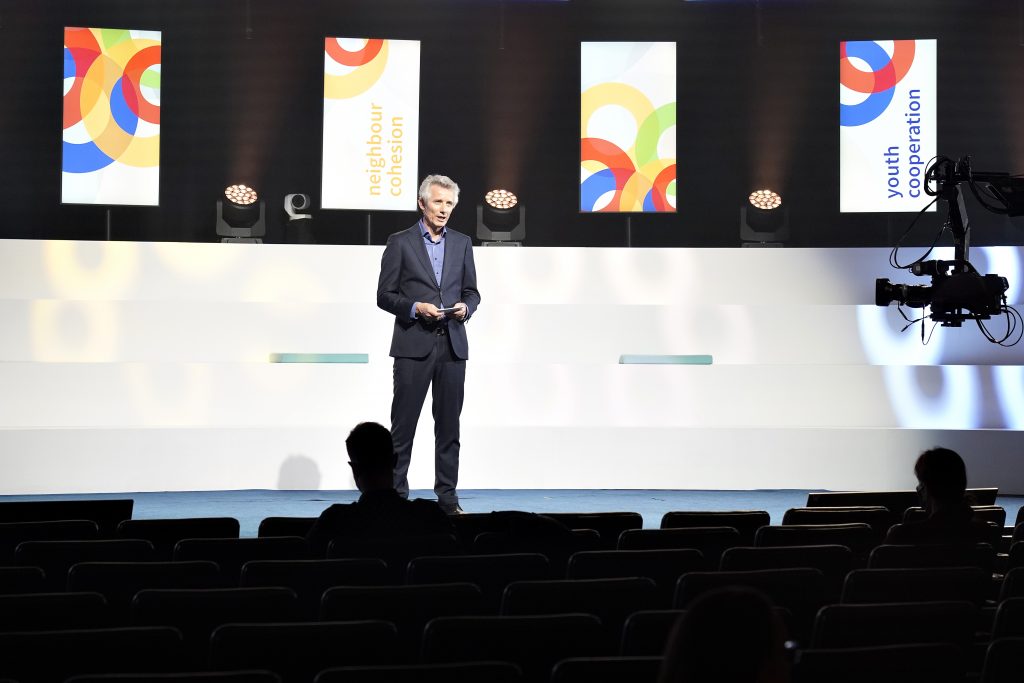 This was TV
I love moderating because I love the connection with the audience. One of the jobs of a moderator is to give good energy, to create the vibe. For that, I have to find my moderating mojo which I have no problem with: I get it from my connection with the audience. I can see everyone and how they react to what I do. That gives me energy.
But when you never see your audience?
Well, then it's all the more important to create a positive vibe. The irony is, of course, that it's harder to find the mojo when you talk into a lonely camera. Looking at the recording of my moderation, I was somewhat surprised to see that, at the beginning, I was less upbeat than I had wanted to be. That was an important first lesson. If you moderate into cameras you have to work harder to spread the vibe and conjure the smile.
Having said that, I found my mojo thanks to what I consider the most important ingredient to any moderation.
What is that? It's to give the speakers meaningful and heartfelt introductions!
Set them up for success
Have you been introduced in one of these ways?
The moderator goes to your LinkedIn-profile, copies some text and…reads it.
The moderator asks you to send a text about yourself, takes that text and…reads it.
Such introductions are bloodless. They don't do what a moderator has to do. As moderators, we can't just say or read something that we are not connected to. Our job is to truly help the speaker by giving him or her the best possible start. Our job is to set the speaker up for success. And how do we do that? By setting up the audience for success! Let's make sure that the audience looks forward to the speech, that they can can be excited about what they will hear and learn.
Inspire yourself
In public speaking we say: "You cannot inspire others, if you are not inspired yourself." The same is true here. "You cannot make others look forward to what is coming, if you are not looking forward to it yourself."
It's hard to get there without investing some time. The secret for me is to schedule a friendly conversation with every speaker during which I am not pressed for time. It's a simple truth that the interesting stuff usually doesn't rise to the surface right away. It takes a while to appear. It can be five minutes, ten minutes, twenty minutes. At one point, the speaker suddenly says something that you totally connect with or that binds it all together.
Preparation Icebergs
A good part of my preparation for the Interreg event went into conversations with eight young panelists who discussed policy proposals with Markus Kerber, Secretary of State (in the German Ministry of the Interior) and Marc Lemaître, Director General of DG REGIO.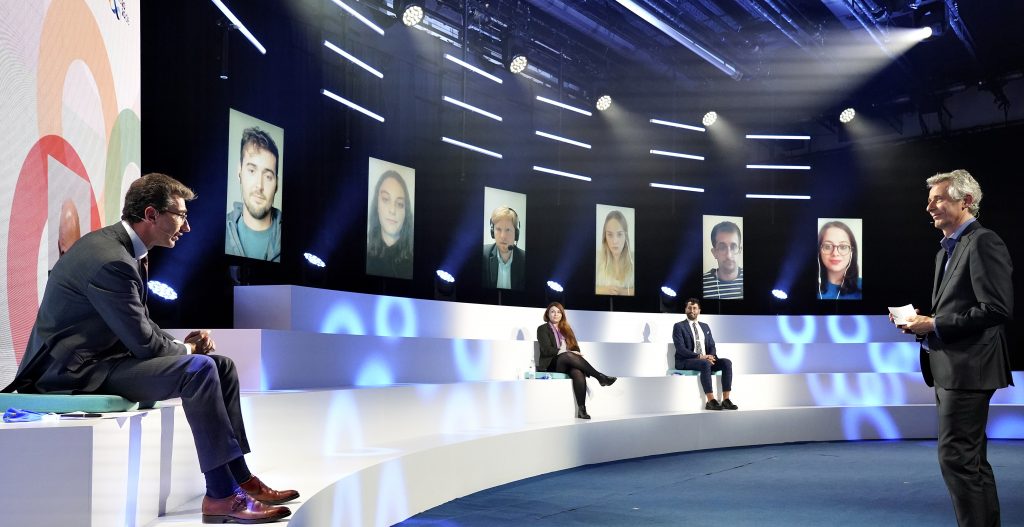 My introduction for each panelist was short. In that way, introductions are icebergs. What the moderator says is above the surface but not all the preparation-time below. One example was the panelist Fons Janssen. When I spoke to him, he told me many interesting things. Then, at one point, he mentioned that he was among the many young who had joined the climate marches that we saw all over Europe. He told me that the marches were important but, ultimately, not enough. He said:
"Young people have to get out of the streets and into the policy rooms."
The moment he said that, I knew I was going to use it. It was his sentence but it wasn't the first thing that came up. It needed the conversation to rise to the surface. And it was gold. Out of the streets and into the policy rooms – that is a memorable phrase and I wasn't surprised that other panelists referred back to it.
Meaningful and heartfelt introductions for the  moderator mojo
It is always something different that catches the attention. And what catches the attention is hardly ever something that you find on the speaker's LinkedIn profile. Nor is it hardly ever in the information that a speaker will send about her-or himself. As moderators, it is our job to find that spark for our introductions, that 'thing' that will set up the audience and the speaker for success. And by doing so we are setting ourselves up for success. At least that's how it works for me: it's in meaningful and heartfelt introductions that I find my moderating mojo.